At our in-person launch event in London's OXO2, we revealed the first of three, benchmarking reports sharing the latest key trends, current challenges, how agency owners are spending their time, current confidence levels and financial performance comparisons from the most successful agencies.
Missed the live event? Here is a recording to get you up to speed...
Check out the reports to gain insights that include:
We're working with Ecologi to find ways we can reduce our carbon footprint. This is why we are planting a tree on behalf of every person that takes part in the survey and every person that attended our BenchPress launch event. See how we're doing here.
---
Your hosts for the next report release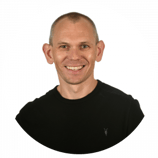 Peter Czapp
Peter Czapp will be delivering the results live – if you haven't heard him speak before you're in for a treat! He loves helping agencies grow. In 2004, he co-founded The Wow Company, an accounting firm specialising in providing agencies with support and insights so they can make better financial decisions.
In 2013, Peter went on to set up The Agency Collective, which has grown to become the world's best peer support community for agency owners.
Peter is the world's leading expert in benchmarking creative businesses. He loves uncovering what the most successful ones do differently from the rest and will share his unique insight and research during this event. Be prepared to leave with lots of practical ideas you can implement right away, including tips to help guide your agency through whatever 2023 throws at us.

Rory Spence
Rory Spence will be the one making sure all your questions are answered. Day-to-day, you can find him helping ambitious agency owners who want to grow beautiful businesses. He's helped thousands of agency owners across the UK.
Combined with working on BenchPress, he's your go-to guy for the latest agency insights, stories and best practice.
Rory especially loves helping agency owners make more profit, streamline their financial processes, and be able to take more time to work on the agency, rather than in it.
We've partnered with Mailchimp

We've partnered with Mailchimp & Co to help agencies increase their chances of success. Learn more.